With Dolby ATMOS and DTS:X sounds move independently around you from all directions, even above, just like in real life.
Become immersed in true 7.1.4 channel sound from 17 speakers, including 4 that fire upward and 2 that fire from the side.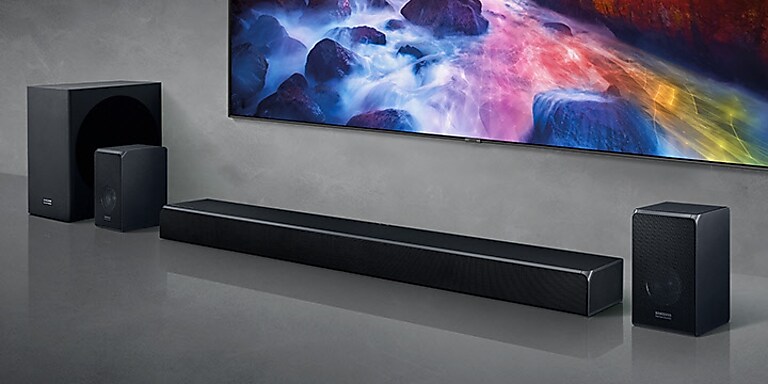 Immersive sound. Perfect for QLED.
Take home the ultimate Dolby Atmos and DTS:X experience. The Soundbar Q90R transports you into every beautiful picture with Dolby Atmos and DTS:X technologies. Get swept up in the exhilaration of multidimensional cinematic audio, masterfully delivered above, behind and all around you from 17 built-in speakers. It's entertainment that rivals even the very best movie-theater experience.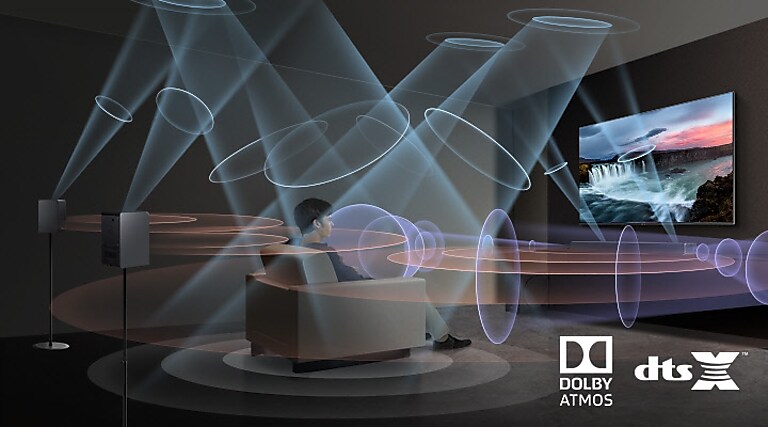 A different dimension in home theater
If anything can match the incomparable picture quality of your QLED TV, it's the cinematic experience of Dolby ATMOS and DTS:X technologies. Like in real life, individual sounds move independent of each other, so the sounds of people, places and music wash over you from all directions. You not only hear the scene, you feel as if you are a part of it.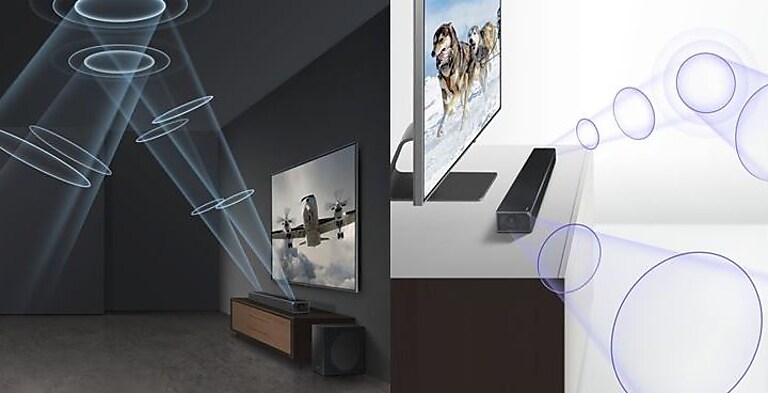 Feel sound around you. And above you.
Make the very most of every scene with sound that envelops you from 17 speakers. Up-firing speakers project audio above you while side-firing speakers send sound around you for a more spacious soundstage.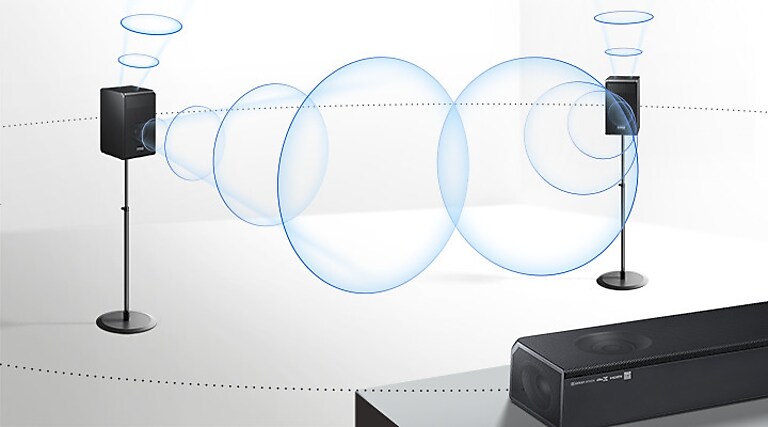 Experience true surround sound
Upward firing rear speakers add another element of surround sound to your movies, making every moment more cinematic.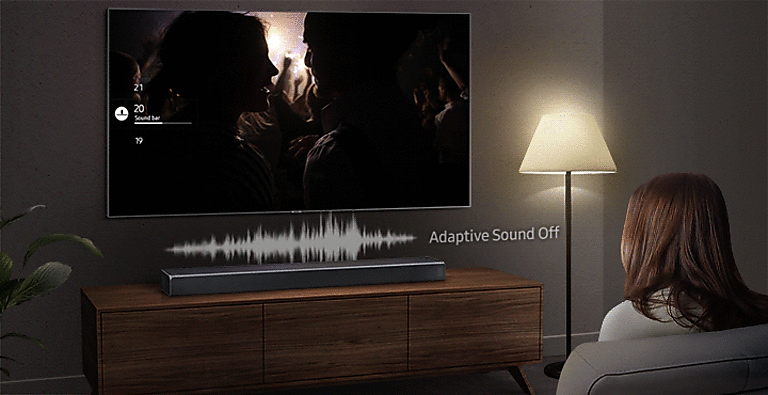 Optimized sound, so you can hear it all
The HW-Q90R soundbar automatically delivers optimized sound based on each scene and even lets you hear voices clearly on low volumes.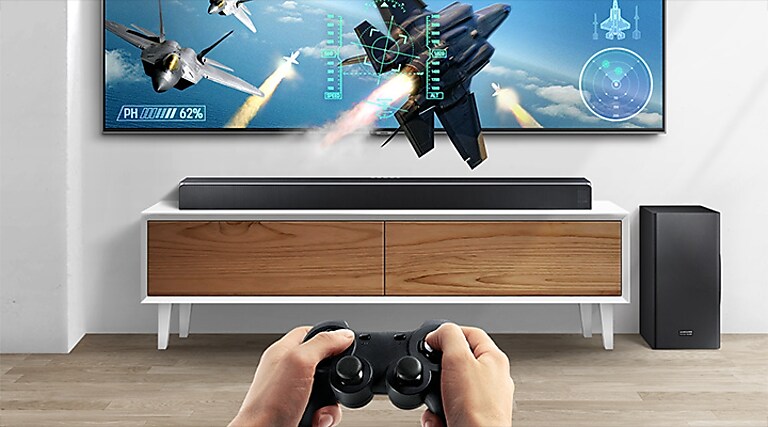 The sound of victory
Claim more glorious victories with rich sound that transports you to the center of the action. Your soundbar detects when you're gaming and automatically optimizes the sound in real time.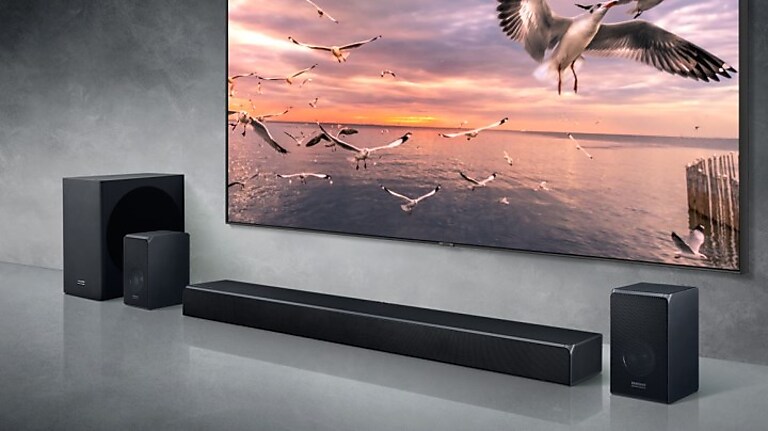 Made for each other
The HW-Q90R Soundbar is optimized to work seamlessly with Samsung QLED TVs. Enjoy Plug-and-Play connectivity via wired or wireless connections, control both TV and soundbar with the Samsung OneRemote and fine-tune your sound right from the TV menu.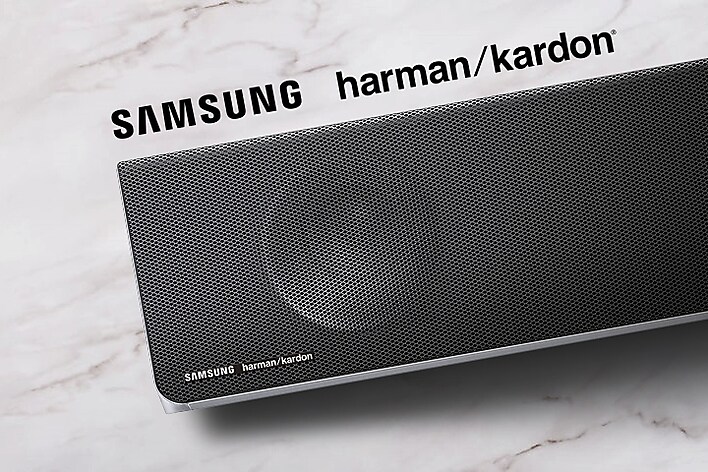 Sound completed by audio masters
By combining Samsung's innovative mastery in home entertainment solutions with 65 years of Harman Kardon's audio technical expertise, the two brands continue to push boundaries to bring state-of-the-art sound to the home entertainment experience.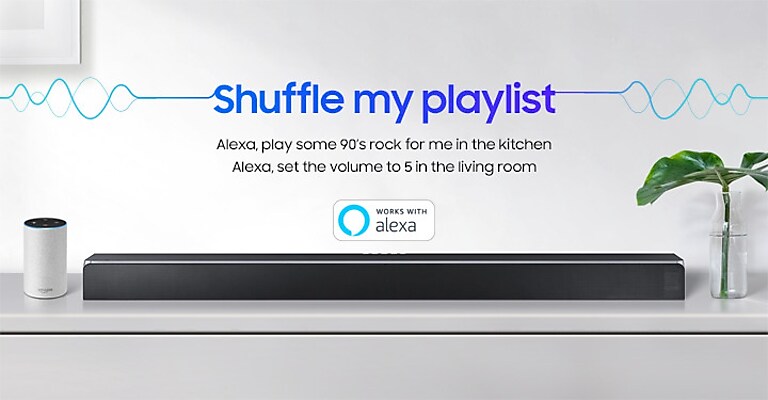 Music comes alive with your voice
Can't recall the title Enjoy your Soundbar hands-free using Alexa voice control.Ask Alexa to play something by simply saying the title or a few lines of the song's lyrics.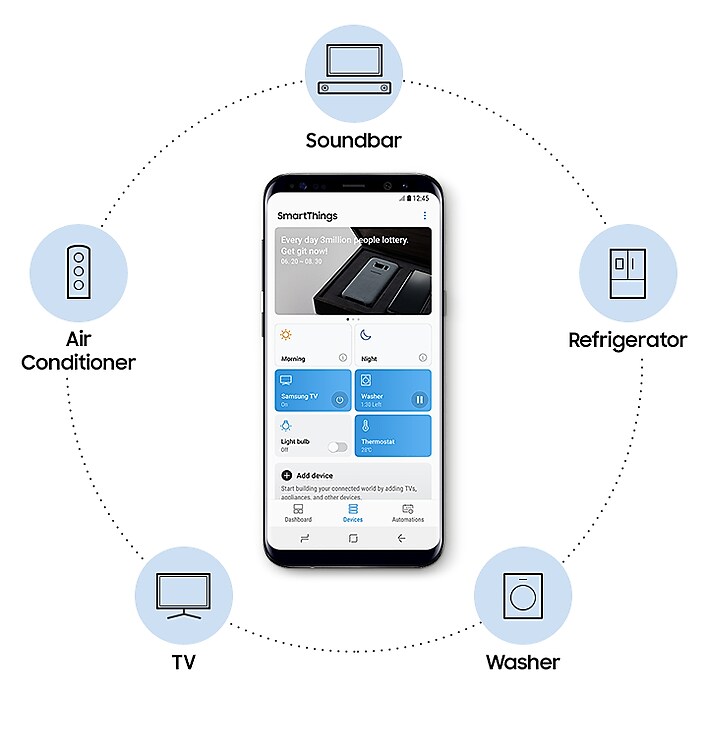 Listen smarter with SmartThings
SmartThings lets you add your speakers to your network, giving you greater control over your audio throughout your smart home. Take connected living to the next level.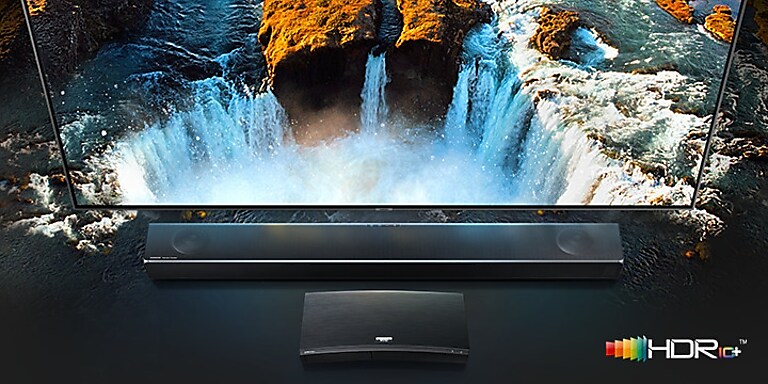 A seamless 4K experience
With 4K pass-through built in, connecting 4K video sources like your game console is easy. It even works with HDR 10 sources, allowing you to enjoy audio with pristine quality matching that of your video.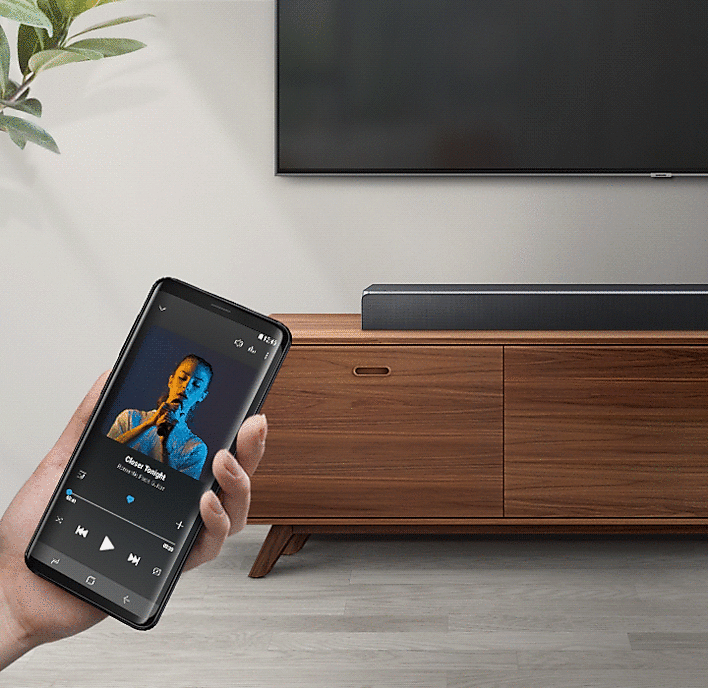 Wireless music streaming
The HW-Q90R Soundbar includes Bluetooth for easy wireless connections to other devices. Enjoy music from your mobile, no strings attached.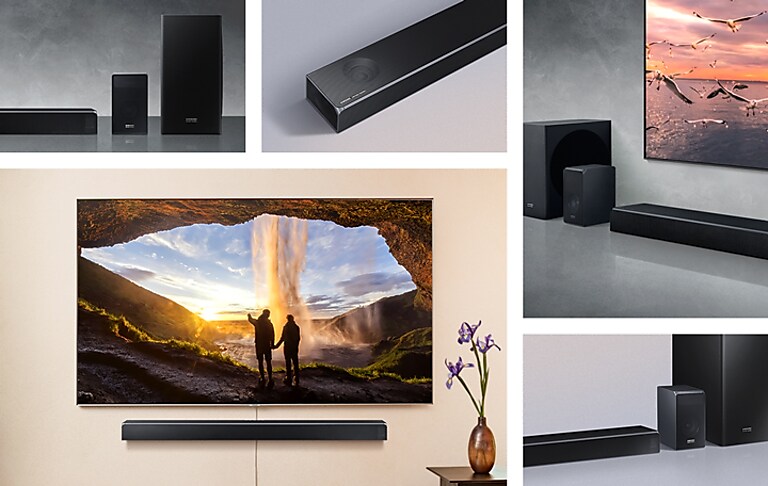 Soundbar Q90R
The HW-Q90R is optimized to work seamlessly with your QLED and deliver a superior entertainment experience.
General
Number of Channels
7.1.4 Ch
Total Power (W)
512W
Frequency Response (amp)
34Hz~17kHz
Packing Type
One Packing
Features
Smart Sound Mode
Yes
Wide Range Tweeter
Yes
Anynet+ (HDMI-CEC)
Yes
Wireless Rear Speakers
Yes (Included)
Samsung Audio Remote App
Yes
Audio Processing
Dolby Digital
Dolby 5.1ch / Dolby DD+
DTS-X
Yes
DTS Digital Surround
DTS 5.1ch
Audio Features
Surround Mode
Surround Sound Expansion
Game Mode
Yes
UHQ 32bit Audio
Yes
Adaptive Sound Mode
Yes
VIDEO FEATURES
4K (60Hz) Video Pass
Yes
HDR
Yes
SPEAKERS
Number of Speakers
17
Center
Yes
Subwoofer
8" Driver
Subwoofer Type
Wireless
Speaker
Up-firing (4), Side-firing (2)
AV Decoding Format
WAV
Yes
MP3
Yes
OGG
Yes
FLAC
Yes
AAC
Yes
ALAC
Yes
AIFF
Yes
Connectivity
Bluetooth
Yes
HDMI Inputs
2
HDMI Out
1
Optical Inputs
1
Wi-Fi
Yes
Bluetooth Power On
Yes
Power Consumption
Stand-by Power Consumption (Main)
4.5W
Stand-by Power Consumption (Subwoofer)
0.45W
Operating Power Consumption (Main)
35W
Operating Power Consumption (Subwoofer)
28W
Free Voltage
Yes
Dimensions & Weight
Product Dimensions (W x H x D)
48.26" x 3.26" x 5.35"
Product Weight (lb.)
19.4
Shipping Dimensions (W x H x D)
50.86" x 23.85" x 10.31"
Shipping Weight (lb.)
58.86
Spk (sub woofer) Net Dimension (W x H x D)
8.07" x 15.86" x 15.86"
Spk (sub woofer) Net Weight
21.60
Accessory
Remote Control
Yes
Wall Mount Kit
Yes
Battery
Yes
HDMI Cable
Yes
ENERGY STAR® Certified
ENERGY STAR Certified
Yes
Key Features
Dolby Atmos
Yes
Q Series
Yes
Straight Soundbar Design
Yes